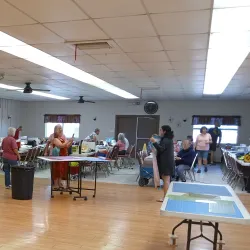 Your stay at The Caravan Oasis 55+ RV Park for 55+ in Yuma, Arizona isn't just about the picturesque desert views; it's about embracing a lifestyle of comfort, relaxation, and active living. Our wide array of top-tier amenities have been thoughtfully curated to enhance your living experience.
Space for Community and Relaxation
Our vast community areas are not merely open spaces. They are social hubs where residents can gather, unwind, and share joyful moments. Whether you want to engage in friendly chats under the desert sun or simply enjoy a quiet, reflective moment, our communal areas provide the perfect settings.
Cool down in one of our two sparkling swimming pools or soothe your muscles in our hot tubs after a day of exploration. Our BBQ picnic area is the ideal spot to cook up delicious meals in the company of friends, while our hammock park is perfect for a lazy afternoon nap or catching up on your favorite book.
Embrace an Active Lifestyle
Staying active has never been so enjoyable. You can engage in a friendly game of pool or darts in our games room, and even participate in our weekly dart tournaments to add a dash of competitive fun to your routine.
If outdoor games are more your speed, we have you covered. Play a round of pickleball, engage in a friendly match of horseshoes, or bocce ball. For fans of shuffleboard, we offer high-quality courts. Golf enthusiasts can work on their swing at our driving range or finesse their short game on our well-maintained putting green.
Entertainment for All Tastes
Our large, air-conditioned recreational hall is the heart of our community's social life. Here, you can enjoy a wide range of entertainment options. Join in our lively music sessions, try your luck at bingo, or engage in a friendly card game with fellow residents.
Our community gatherings are also hosted in this space, providing the perfect venue to meet new people, share stories, and create lasting memories. These gatherings foster a sense of community, creating an atmosphere of warmth and camaraderie that's a defining feature of life at The Caravan Oasis 55+ RV Park.
Overall, we strive to make your stay not just comfortable, but filled with opportunities for joy, relaxation, and engagement. Come and experience desert living at its finest at The Caravan Oasis 55+ RV Park in Yuma, Arizona.