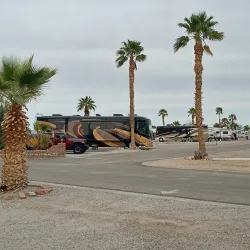 The Caravan Oasis 55+ RV Park is your premier destination for exceptional RV camping experiences in Yuma, Arizona. Nestled in a serene location, our resort offers a range of spacious lots and top-notch amenities to ensure your stay is comfortable, enjoyable, and memorable.
Explore the following information to discover why The Caravan Oasis 55+ RV Park is the perfect choice for your next RV adventure.
Lot Sizes and Amenities
We understand that every RV enthusiast has unique needs. That's why we offer three different lot sizes to accommodate various rig sizes and preferences:
Regular Size Lot
Ideal for rigs or units up to 24 feet in length, our regular size lots provide ample space and convenience for a cozy camping experience.

Deluxe Size Lot
For rigs or units up to 32 feet in length, our deluxe size lots offer additional room to stretch out and enjoy your stay, providing a comfortable and spacious camping environment.

Premium Size Lot
Designed to accommodate large rigs over 32 feet, our premium size lots ensure that even the most expansive RVs have plenty of space to park and relax.
In addition to our diverse lot sizes, we provide a range of amenities to enhance your stay. Our full hookup sites include electric, water, and sewer connections, ensuring your convenience and comfort throughout your visit. Whether you prefer a 50 AMP or 30 AMP site, we have you covered, allowing you to choose the option that best suits your RV's electrical requirements.
Rates and Packages
The Caravan Oasis 55+ RV Park offers flexible rates and packages to cater to your individual needs and desired length of stay. Please refer to our Rate Sheet for details on our daily, weekly, monthly, and seasonal rates, as well as our dry dock monthly RV storage options.
For short-term stays, we offer competitive daily and weekly rates, which include utilities, allowing you to make the most of your time with us. If you plan to stay longer, our monthly rates offer excellent value for extended stays. Additionally, we provide seasonal specials with package rates for 3, 4, 5, and 6-month stays, giving you the opportunity to enjoy our resort for an extended period at discounted prices.
Standard Year-Round Rates
Daily

Standard: $50.00
Good Sam: $45.00
Passport America: $25.00



Weekly
Monthly

Regular: $535.00
Deluxe: $595.00
Premium: $675.00
Seasonal Specials
3 Month Package

Regular: $1,500.00
Deluxe: $1,650.00
Premium: $1,900.00



4 Month Package

Regular: $1,960.00
Deluxe: $2,160.00
Premium: $2,500.00



5 Month Package

Regular: $2,375.00
Deluxe: $2,625.00
Premium: $3,050.00



6 Month Package

Regular: $2,700.00
Deluxe: $2,625.00
Premium: $3,050.00
At The Caravan Oasis 55+ RV Park, we are committed to providing you with an exceptional RV camping experience. With our spacious lot sizes, top-notch amenities, and flexible rates, we strive to ensure your comfort, convenience, and satisfaction throughout your stay. Contact us to book your spot and embark on an unforgettable RV adventure with us.
*Please note that all rates are subject to change at any time. Daily and weekly rates include utilities, while monthly or packaged stays pay utilities in addition to the stated rates. All packages start on the 1st of the month, and no exceptions will be made.